I thought I may introduce you all to some podcasts if you are trying to switch up your Metra commutes from listening to the same 10 songs you currently have in your rotation. Podcasts offer what I believe to be the best of talk radio in a manner that doesn't require me to listen to 5 minutes of commercials for 3 minutes of content. They definitely make my Blue Line ride a whole hell of a lot easier. Here are a few sports podcasts that throw out the normal stat regurgitations that seem to litter the airwaves. While some of these do have their own radio shows attached to them. These are easily my favorite sports podcasts that bring comedy to the plate as well.
PETROS AND MONEY SHOW (PMS)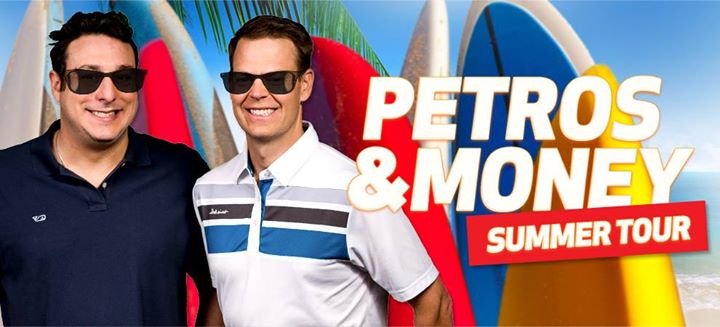 First up we have two of my favorite radio personalities. You know a podcast is good when I live in Chicago and your churning out content for an LA market, and I listen to your podcasts everyday. While they do focus on the LA market they also discuss national topics. Petros is an absolute character. He was made for radio. His ugly mug may certainly solidify this fact. These two have me rolling at least 3 times an episode. Whether it be crunchy groove Thursday, a daily show dedicated to stoner culture and the crunchiest of grooves out there, or Frog-man Friday, these guys bring the heat each and every episode. This show has been working for 10 years, and it really shows. From Vance Finance to Lance Romance, these guys are pretty great. Their weekly segment "The Bachelor Report" has me rolling, he absolutely kills the chicks on there. Their chemistry is unmatched. Like I said, you gotta be keeping my attention if I give two shits about you talking about the Dodgers every now and then. Here's a clip of the Bachelor Report for ya.
JAY AND DAN PODCAST
Whether they are discussing the latest in the NHL or movie reviews by Dan's divorce attorney Jay and Dan are right up there on my Mount Rushmore of Podcasts. I mean these guys understand that sports are supposed to be fun. They bring that fun into every aspect of their coverage of sports. Previously on TSN in Canada and now for Fox Sports Live. Their podcast is no different. These guys are the best. If you say you don't like their way of presenting the highlights for the day, then you're a god damn stick up your butt hardo, and there's the door. I need more sportscasters making me laugh in between the same exact type of highlights I constantly engulf myself in each night. They are leaps and bounds better than ESPN anchors trying to make me laugh, with shitty ass Northwestern nerd jokes. Except SVP, he's cool with me. But here's how they would cover the sports throughout Canada. If they can have this much fun presenting the same type of highlights night after night, just imagine how much fun they can have on their own explicit podcast. Thanks Canada.
PARDON MY TAKE
Last and certainly not least. Pardon My Take. Dan Katz aka Big Cat may be one of the funniest individuals in the podcast game out there. As a Chicago guy, Blackhawks fan, Cubs fan, and a Bears fan, I'm a fan of his. After listening to pretty much every episode ever, I have to say as stupid as PFTCommenter may sound from time to time after understanding his humor, I have to say he is more intelligent than one may think. The fact that they have a gambling goldfish that just so happened to end up in the top 5% of gamblers in the Vegas Super contest that that Starbucks Barista won is just hilarious. These guys have me rolling each and every episode. There interviews with athletes like Pat McAfee are just hilarious, they ask the questions that all others are afraid to. Like, "do you wash your apples?" and "Who's the most famous person in your phone" then having the guest call that person. Biggest get was SVP calling Tiger Woods. They single-handedly bullied a horse (Nyquist) off twitter (What a ridiculous sentence). They even made me actually like Joe Buck. If you've been under a rock and haven't heard them yet check out PARDON MY TAKE. Here's Big Cat taking the 2016 NFL draft by storm.