We've been on personal holiday for awhile. Just so happens that a lot of the greatest days of the sports year happened to coincide with our breaks to enjoy the new years with loved ones, friends, and some Mad Dog 20/20s. So I want to take this time to make some points on just what we missed in our brief hiatus. Buckle Up.
Indiana Basketball: First let me just start with Indiana Basketball's shitty, shitty, run of games as of late. I'm currently watching this waiting to see how this Wisconsin game ends (Update. We lost at home. Again.) up with my boys down at the half currently. This team is killing me slowly. They are the most athletic and skilled shit team there is. Tom Crean you're fucking out *Kenny Rodger voice*. How is this team so so shit. Losses to Nebraska and Louisville are such a disgrace considering we beat both Kansas and North Carolina. That loss to Nebraska is especially painful due to it being at home, where it seems we've been unstoppable in recent years. I find myself in awe of Josh Newkirks absolute self unawareness that he thinks driving in the lane into the other teams big men is gonna work after it already failing ten times in a game. So done with this squad if shit doesn't get turned around quick. I would have said fire Crean after he lost a sweet sixteen game this year, but at this point, I don't expect a first round win… still… fire Crean.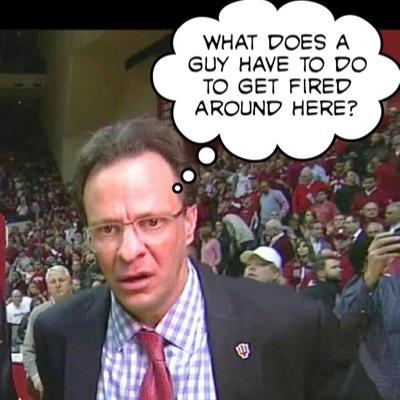 Indianapolis Colts: It's been 3 days since the season ended well actually about 10 because why play if you're already out of the playoffs. Suck and pick up a better player in the draft. But speaking of firing people running sports within the state of Indiana, the fact that it is January 3rd and Grigson is yet to be fired really makes ya wonder if Jim Irsay has just not come down yet from his New Years bender. How in the hell does this guy still have a job. You've got to be shitting me. You know Kirk Cousins is about to be the highest paid player in the NFL. KIRK COUSINS!!! You know the QB taken after Andrew Luck, RGIII, Ryan Tannehill, Brandon Wheedon, Brock Osweiller, Russell Wilson, and Nick Foles, that guy. The fact that this is what any QB with a halfway decent chance of being competent at the position is going for makes Ryan Grigson's bitching about how difficult it is to build a team around Andrew Luck's contract just point that much more to the fact he has no clue what's going on.You are a GM and have no idea what the hell is happening to the market for NFL players. Dumbass. At this point I think it's only a matter of time. Once Jim Irsay recovers from his hangover Grigson should in all reality be out the door, but then again maybe Pagano and Grigson cry in Irsay's office and get to keep their jobs… Again.
COACH K needing back surgery and Grayson Allen suspended and stripped of his captain status: Real convenient timing there Coach. Your star player and team captain has just put on an absolute display of insanity and earned his way into a suspension put on by Duke, and if you believe Coach K had anything to do with him being suspended you are absolutely off your rocker. That was ABSOLUTELY a Duke administration move. And Coach K is out for 4 weeks due to going under the knife for back surgery. I'm sorry but I imagine something like back surgery is something you can plan your career around. Like maybe have it in the offseason, not immediately following an embarrassing 14 point loss to Virginia Tech. The timing of this all seems a little too nice to me. I think Coach K is the biggest Sleezeball in the game, that includes that used car salesman Coach Cal, and the Human Cigarette that is Pitino. Shout to Pardon My Take and Big Cat for putting it best. Coach K would shame his players for leaving Duke early for the NBA, until he saw Coach Cal promoting it and winning, then immediately changed his stance on that issue. What a hypocritical piece of shit.
College Football Playoffs: Oh, Alabama's in the championship… You don't say….
Lastly, The Bowl Season: Shit Game, Shit Game, Shit Game, meaningless shit game, then the Rose Bowl. What an awesome game. That may have been the first bowl game outside of the CFP since the creation of the CFP that genuinely deserved to be listed as a college football "postseason" game. In case you missed Saquon's incredible run or the game winning kick here ya are.
PS. That Wisconsin loss in Assembly Hall is absolutely crippling for me. now 2-3 against teams worth a damn this season. May have to hibernate until Crean is gone.